"BrightO Is Wicked And Devilish"- Fans React As BrightO Exposed Praise's Secret To Kiddwaya(Watch video)
2 min read
BrightO Is Wicked And Devilish"- See What He Told Kiddwaya About Praise That Got People Talking
Big Brother Naija lockdown housemates have been a talking point in the media since July 17 that the reality TV show started.
The loving moments, the drama, the party and controversies among the housemates are what makes the programme an exciting one to watch for millions of viewers across the continent.
One of the events in the house that got people talking on social media is the wicked act of BrightO who was keen on making a fellow housemate, Praise cry by telling him what will hurt him.
Watch video:
While playing game with Kiddwaya on Thursday Midnight, he told kiddwaya the secret Praise told him about his wife and family
"Praise talks and behave anyhow, I know what I will do to him from now on, I will abuse him and get him angry and cry." BrightO told Kiddwaya
When Kiddwaya presses further to know how he would make Praise cry, he said "He told me about his son and wife, his wife is 60 years plus. I will use it against him."
Reacting to the gossip between BrightO and Kiddwaya, Twitter users blasted BrightO and called him wicked and devilish and many viewers resigned their support for him.
One Twitter user with the username @AyanfeWordsmith said "BrightO is wicked and devilish and should be avoided by all housemates"
See other reactions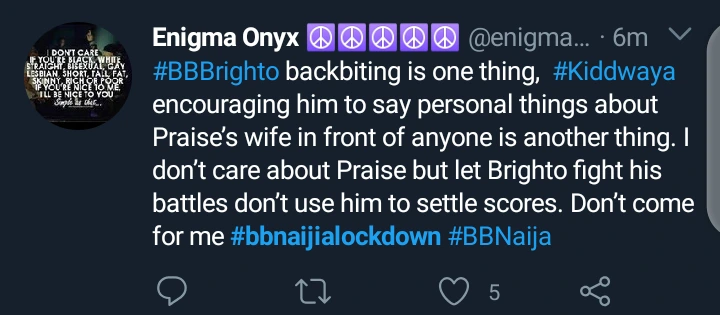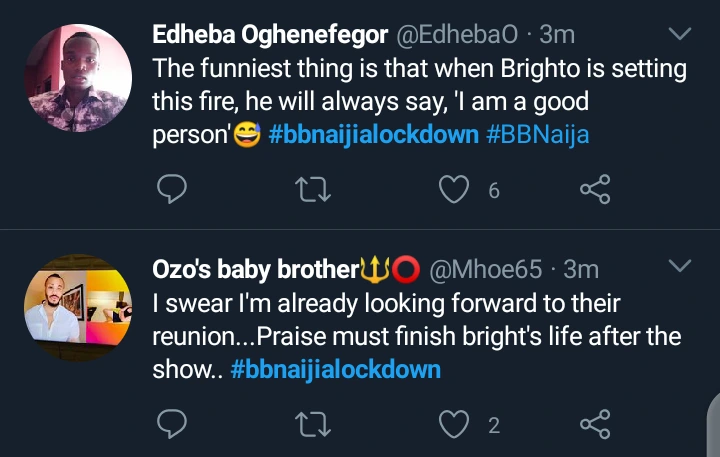 What do you think about this? Is Brighto an ideal person that should be talked to? Kindly comment and share