Juventus unveil Ramsey
1 min read
Aaron Ramsey says that he wants to follow in the footsteps of compatriot and Juventus hero John Charles after the Welshman was unveiled at the Serie A club on Monday.
Ramsey will have a tough task emulating Charles, who died in 2004 at the age of 72, as the former Leeds United and Wales player is a bona fide legend in Turin thanks to a hugely successful five-year spell in the late 1950s and early 60s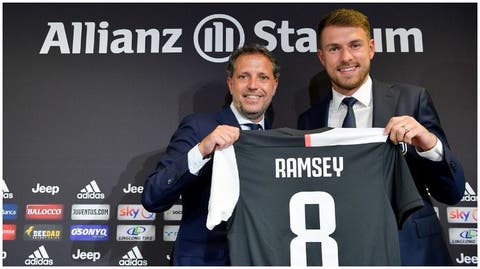 Ramsey, 28, made his first appearance as a Juve player in Turin on Monday after signing in February a four-year deal worth a reported seven million euros ($7.9 million) net a season.
Ramsey, who won three FA Cups in his 11 years at Arsenal and played a key role in Wales reaching the semi-finals of Euro 2016, said that the move to the Italian champions, who have won the last eight Serie A titles, was one he couldn't turn down.
When I knew that Juventus was interested, I couldn't refuse. It's a great club, one of the biggest in the world, and to have the opportunity to come here and play for them is a dream," he said