Master's degree finalist with over 30 certificates sells eggs after failing to secure job, cries out for help (photos)
4 min read
A Nairobi based Master's degree finalist has resorted to selling eggs on the streets after efforts to secure a job hit a brick wall.
Dennis Obilo, who also holds a diploma and a Bachelor's degree in procurement and supply chain, has over time accumulated more than 30 certificates and recommendations from various institutions across the country.
Needy family
Obilo was born and brought up in Rongo, Migori county 30 years ago. His childhood life was full of struggles and challenges that were worsened by the demise of his father at a tender age.
The burden of bringing him up together with his five siblings shifted to their already overburdened mother who neither had a job nor any source of income apart from tilling their small portion of land in the village.
As such, his dream of going to school was almost shattered at the very beginning since his mother could not afford the costs.
It took the intervention of a neighbour who saw in him the burning desire for education to rescue his dream.
Obilo was introduced to Mulli Children's Family home in Yatta where he commenced his primary school education.
"My neighbour introduced Dr. Charles Mulli who was running a children's home. He took me in and that is how I began my education journey. The home has a primary and secondary school so I remained there until I completed Four Form" said Obilo during an interview with TUKO.co.ke.
Top in class
Despite the challenges of having been moved from home to a new environment far away from home at such a tender age, Obilo remained focused and was often at the top of the class.
He sat for his Kenya Certificate of Primary School Education (KCPE) in 2003 and proceeded to secondary school at the same institution.
The youngster sat for his Kenya Certificate for Secondary Education (KCSE) in 2007 where he emerged top in his school.
"After completing Form Four I was supposed to leave the children's home because I had attained the age of 18 years hence considered an adult. However, because of my performance and discipline, I was retained and put in charge of the store for three years," said Obilo.
Post-secondary education
In 2010, he was brought to Nairobi by the owner of the children's home, Charles Muli, who enrolled him for a diploma training in procurement and supply chain at Kenya Institute of Management.
As he was pursuing his diploma, Obilo also enrolled for other short term training courses that earned him more certificates.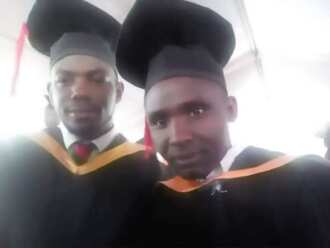 Obilo (right) with his friend during their graduation ceremony at the University of Nairobi in 2018. Photo: Dennis Obilo.
By the time he graduated with his diploma in 2013, the soft-spoken student had also completed other training in strategic and project management, computer studies, HIV/AIDs guiding and counselling and driving among other attainments, including being enlisted as a world youth member after weeks of intense training.
He also underwent rigorous training to become a certified member of the Kenya Institute of Supplies Management.
"Cumulatively I have over 30 certificates and recommendation papers but all of them have not been useful up to this point."
Nairobi University
Upon graduating with a diploma, the ambitious learner got a temporary job which motivated him to enroll for a degree at Nairobi University a year later.
However, his job ended immediately he completed the registration process. He recalled:
"I was being paid KSh 25,000 and so I made savings for close to a year before I enrolled for a degree program at Nairobi University, sadly the job ended before I could start my classes."
Being a man of luck, Obilo met the Chaplain of the institution, Father Peter Ngugi Kaigwa, who encouraged him and offered to help him complete his studies. He stated:
"At first he gave cash to go and pay the school fees which I did and brought him the receipt. He knew I was not just serious about education but also honest. From there he trusted me and continued to support my education."
In 2017, having felt the burden the priest was carrying to educate him, Obilo walked straight to the office of the University's Chancellor and appealed for financial support to help him complete his studies.
After a series of meetings with the staff, he was finally allowed to meet Chancellor Vijoo Rattansi and submit his request.
"He felt for me and offered me a full scholarship up to fourth year, I was so happy, I felt relieved and immediately asked Father to withhold his support for a while."
Master's degree journey
In 2018, he graduated with Second Class upper division, only missing one point to join the prestigious First Class category.
Impressed by his performance, the Chancellor offered to pay for his Master's classes which he commenced in 2019.
"I am doing my final semester, were it not for coronavirus I would have graduated," he said.
However, despite this long and winding journey in education circles, Obilo's life has remained full of pain, misery and devastation.
In dire need of a job
Efforts to secure a start-up job have been futile and he has often relied on friends and well-wishers to survive.
He has made numerous applications in different firms across the country but he is yet to be lucky with any of them.
"Paying rent has really been a problem because what I do can barely cater for my meals and other personal expenses. I often rely on friends to survive but as usually most of them are tired of helping me, some even don't believe that I don't have a job."